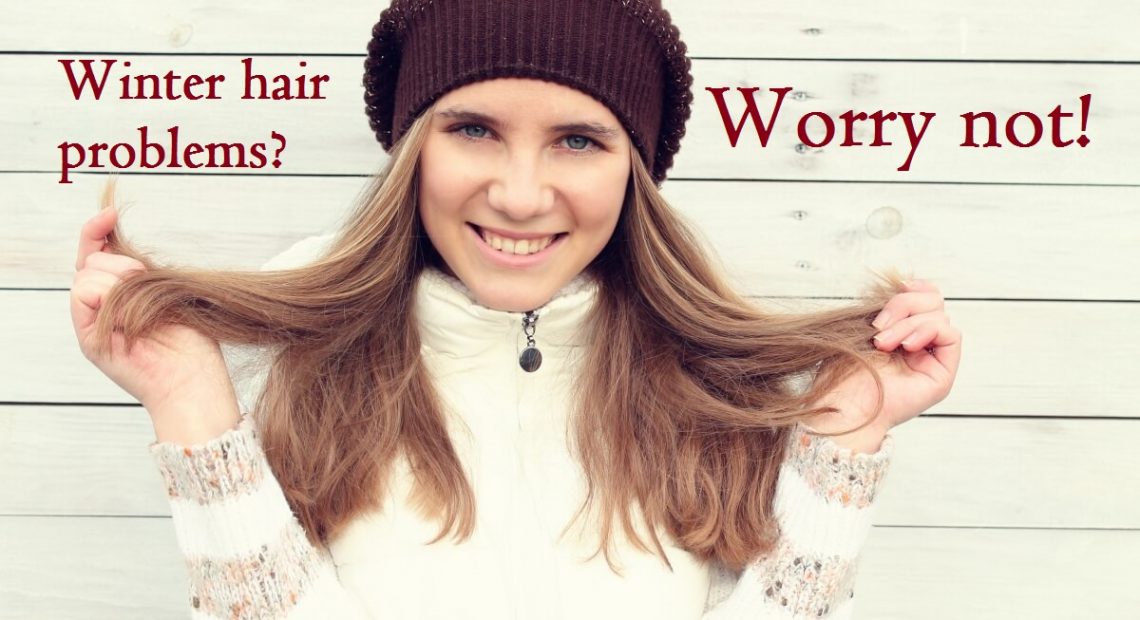 Winter hair problems? Not anymore!
It's that time of the year again when you need to have a list of fine haircare tips for winter! While you enjoy a piping cup of tea with your steaming plate of breakfast on a balmy winter morning, the crisp air is going to have its own effect on your hair, and you know it's up to no good.
The cold season is going to wreak havoc upon your hair game that you have perfected over the summer. Worry not, here are some apt haircare tips for the cold winter months. Whether it's dry hair or frizz, or a flaky scalp to breakage of strands, here are some right remedies to prevent and control it all. Whatever the texture and type of hair, these winter tips will work well for a shiny, healthy mane all winter long!
The lack of moisture during the cold winter months makes your scalp drier and itchier, which becomes the cause of the main problems like dandruff and irritation of the scalp, aggravating the need to scratch. All these combined can lead to hair fall. The right haircare routine can help you manage all these issues easily. You can use good home remedies for many of the issues.
Warm up the coconut oil a little bit, ensuring it's not too hot for the scalp, and then mix in the lemon juice. Using a cotton ball, dab this mixture on your scalp massaging the scalp gently. Leave in on for half an hour, and then wash it. Repeat this process every week until the dryness persists in the air, or longer in case you still feel a few flakes here and there.
This ingredient has mild exfoliating properties which makes it able to absorb excess oil and remove dead cells. In addition to this, baking soda is able to maintain the pH balance of your scalp and fight fungal growth. In this remedy, after you have wet your hair, scrub a handful of baking soda on to your scalp. After a few minutes, wash it off using warm water. It is recommended to not use a shampoo once you're done. Repeat this at least once a week.
Known for its anti-fungal and soothing properties, fenugreek seeds are effective in fighting off dandruff. Due its herbal properties, it helps to fight dandruff extensively. For this remedy, soak 2-3 tbsp. of fenugreek seeds overnight. In the morning grind them till it turns into a fine paste. If you want you can add a few tsp. of curd to it. Apply the paste to your scalp for a few hours. Wash off the paste using your shampoo. For effective results it is recommended to repeat this remedy at least twice a week.
To speed up the process, you can pair these home remedies with Verdura anti scaling scalp shampoo. This will help you to get maximum and effective results within a short period of time. This will help to deal with the root cause of dandruff and will be recommended to you according to your needs by professional dermatologists.
Verdura anti scaling scalp shampoo – It comes with a soothing formula which easily calms the irritation, and at the same time, provide healthy hair which is 100% flake free. With the addition to calming down the irritation, it also reduces the redness. Effectively targets the dryness, and at the same time, keeps the scalp healthy and hair, the beautiful.
Uses 'multi-prong ultra-permeation technology'
Effectively exfoliates excessive scalp scales and dandruff
PossessDual anti dandruff agents, Climbazole and Zinc pyrithione.
Prevents recurrence of dandruff
Controls itching and associated hair loss
Verdura anti scaling scalp shampoo removes dandruff, and nourishes and strengthens hair roots, ensuring a healthy scalp. Natural ingredients help moisturize the hair, preventing dryness. Apply the shampoo for minimum two times in a week for visible results. It is pH balanced and its advanced formula makes it gentle on your hair as well as scalp.
It's not just any dandruff-cleansing shampoo. It is fortified with the goodness of earth's finest herbs like aloe vera, Wrightia tinctoria, Cassia alata & Climbazole and Zinc pyrithrione. Meaning, it nourishes the driest of a scalp and adds moisture to your hair while cleaning white flakes. It treats damaged hair in just 3 applications. It makes a perfect anti-dandruff shampoo for an everyday wash.