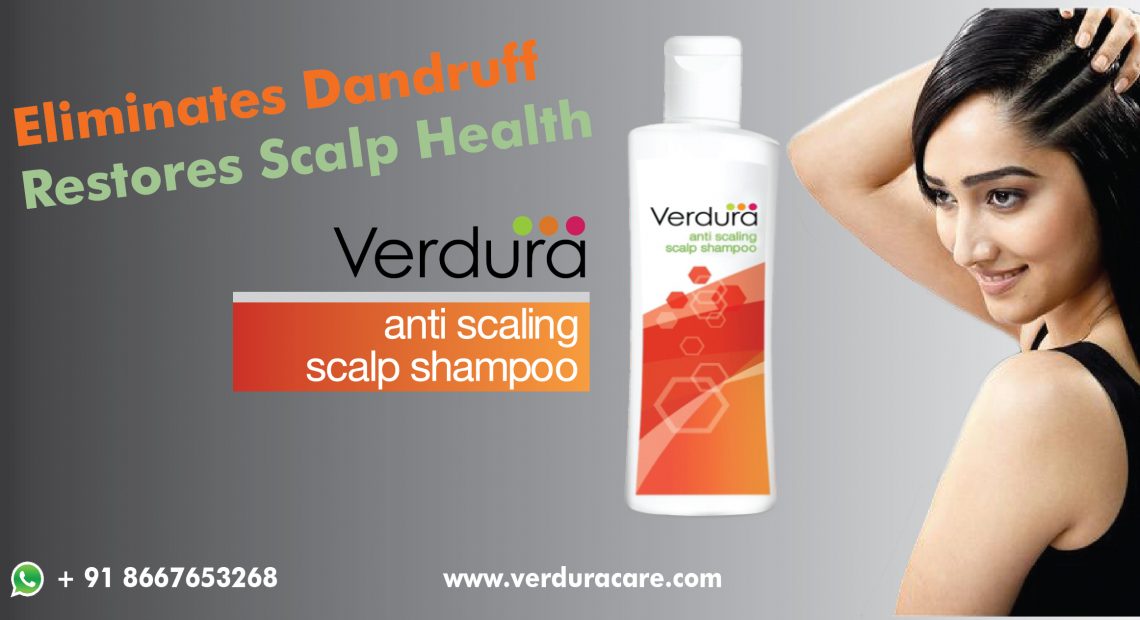 Verdura anti-scaling scalp shampoo – Exclusive benefits
The lack of moisture during the cold winter months makes your scalp drier and itchier cause irritation of the scalp, aggravating the need to scratch leading to a condition called Dandruff.
Dandruff is an unwelcome sight on your scalp and found scattered around on your scalp, sometimes on your clothes as well. Scientifically dandruff is known as Pityriasis capitis, a non-inflammatory form of seborrheic dermatitis.
The right haircare routine can help you manage these issues easily. You can use good home remedies too. To speed up the process, you can pair your home remedies with effective anti-dandruff hair products. Shampoos play an important role in maintaining clean and healthy scalp which in turn bears healthy and shiny strands.
When it comes to choosing the best anti-dandruff shampoos on the market, you've got a lot of scope. The main way to differentiate between the pros and the cons is by looking closely at the ingredient list. This will help you to get maximum and effective results within a short period of time. Shampoos which will help to deal with the root cause of dandruff is recommended.
Presenting Verdura anti scaling scalp shampoo to flaunt your hair after a flake-free finish. It comes with a soothing formula which uses 'multi-prong ultra-permeation technology' effectively exfoliates excessive scalp scales and dandruff. Controls itching and associated hair loss. Also prevents recurrence of dandruff.
It is fortified with powerful dual anti-dandruff agents – Climbazole and Zinc pyrithrione coupled with the goodness of earth's finest herbs like Aloe vera, Wrightia tinctoria & Cassia alata. 
Zinc pyrithione – Probably one of the most common treatments for flaky scalps. It has antibacterial and anti-fungal properties, which effectively help in clearing up seborrheic dermatitis.
Climbazole – treats excess shedding and target fungal activity. Eliminates dandruff, boosts scalp skin renewal process, restores scalp's pH, reduces hair fall.
Glycerin – Glycerin is one of the best-known humectants. Deeply Moisturizes And Hydrates Hair. Removes Split Ends.
Allantoin improves the elasticity and softness of hair while giving it a slight glossy effect.
Panthequat – Enhances hair conditioning and volumizing. Locks in the necessary moisture and nourishes the hair from within. Makes hair healthy and strong.
Cassia alata treats various fungal skin diseases, eczema and itching.
Wrightia tinctoria exfoliates scales. Contains flavonoids, tannins, glycosides and phenolic compounds known to augment healing properties of skin.
Aloe vera contains potent anti-bacterial, antiseptic and anti-fungal properties. Treats wounds, dryness and itching.
It's not just any dandruff-cleansing shampoo. It is pH balanced and its advanced formula makes it gentle on your hair as well as scalp. It treats damaged hair in just 3 applications. It nourishes the driest of a scalp and adds moisture to your hair while cleaning white flakes. It makes a perfect anti-dandruff shampoo for an everyday wash.