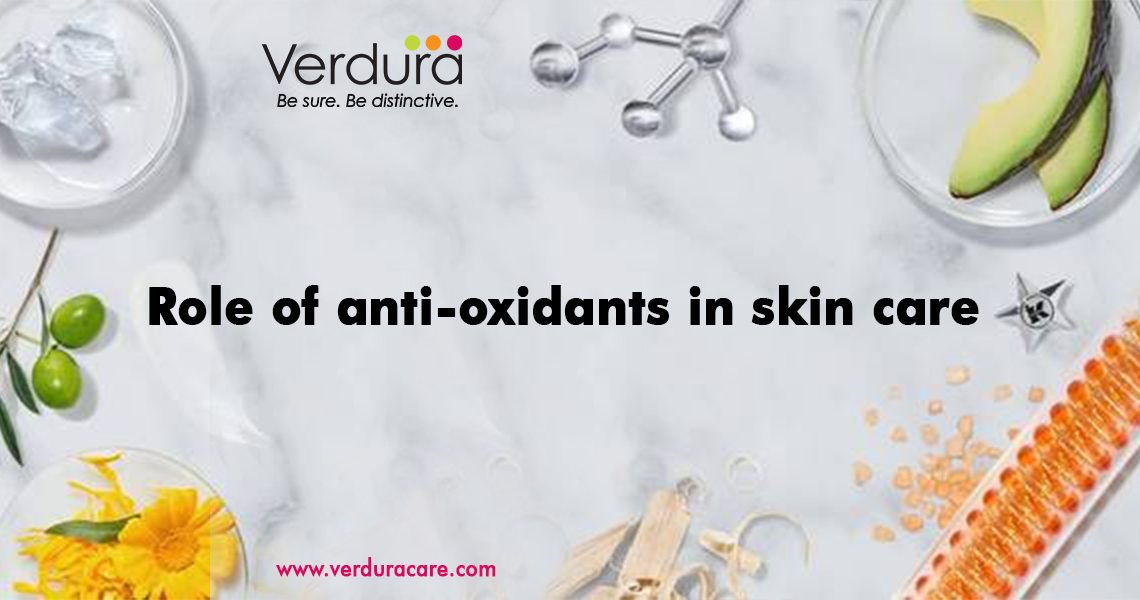 Role of anti-oxidants in skin care
Skin possess defense barrier role against chemical, physical and biological aggressions. During the defense skin becomes the site of multiple oxidative reactions producing highly reactive molecules called free radicals.
Antioxidants are substances that help protect the skin's surface from oxidative damage caused by free radicals and environmental aggressors like UV and pollution. Antioxidants are often found in skin care product formulas because of their powerful anti-aging benefits.
What Antioxidants Can Do for Your Skin
Antioxidants help correct signs of age.
Oxidative stress breaks down collagen, hinders skin's natural repair process and triggers inflammation—and you see these effects as fine lines, wrinkles, loose skin, acne breakouts and a blotchy skin tone. By scavenging free radicals, antioxidants can help prevent and correct these visible signs and give skin a more youthful glow.
Antioxidants help prevent sun damage.
All antioxidants have anti-inflammatory properties. explains . They blunt your skin's inflammatory response to the sun's harmful rays, preventing sunburn and providing enhanced protection against sun damage and photoaging.
Antioxidants help skin repair itself.
Inflammation impedes the skin's renewal process. By reducing inflammation, antioxidants allow skin to repair itself and correct visible damage. Some antioxidants, like vitamin C, can also stimulate collagen production, which is vital for youthful skin.
Antioxidants help brighten skin tone.
Free radicals and frequent sun exposure can also trigger changes in our skin's melanin production, causing dark spots and uneven skin tone. By reducing photodamage, antioxidants can help prevent abnormal skin pigmentation. Some antioxidants (again, like vitamin C) also work to inhibit tyrosinase, an enzyme that stimulates melanin production.
The Best Antioxidants for Your Skin
There are many different types of antioxidants, some more potent than others. The ones used in topical skin care products can protect cells from UV light, pollution and other environmental factors that produce damaging free radicals. Here are the most popular antioxidants found in your skin care products:
Vitamin C
As a free radical scavenger, vitamin C has many skin benefits, like boosting collagen production (which leaves skin firmer) and fading dark spots. Use it in the morning to make the most of its ability to prevent sun damage and inhibit hyperpigmentation—and always follow it with sunscreen.
2. Niacinamide
Niacinamide, also known as vitamin B3, is a powerful antioxidant that improves the skin's texture and tone. It reduces fine lines, wrinkles and hyperpigmentation and exhibits anti-inflammatory properties. Thanks to its ability to calm inflammation, niacinamide can also soothe breakouts, improve skin's barrier function and help fight redness.
3. Vitamin E
Vitamin E is an important antioxidant required for the proper function of many organs in the body, including the skin. It's widely recognized for its ability to accelerate the skin's healing process. No wonder vitamin E is often found in moisturizers, creams and lotions formulated to treat dry skin, as well as products designed to reduce stretch marks. Vitamin E also helps to stabilize other antioxidants and improve their effectiveness.
4. Retinol (Vitamin A)
If there's one ingredient that's been proven time and time again to help turn back the clock on aging skin, it's retinol. A derivative of vitamin A, this antioxidant is particularly effective due to its small molecular structure, which allows it to penetrate deep enough into the skin that it can effectively stimulate collagen production and accelerate cell renewal and repair.
5. Coenzyme Q10
Ever wondered how you used to pull an all-nighter with no hint of fatigue on your skin the next day? Well, thanks to the abundant supply of coenzyme Q10 or coQ10 in your body, those late nights didn't take a toll on your skin—back then. But as we age, the presence of coenzyme Q10, also known as ubiquinone, in our body slowly diminishes, making us more susceptible to wrinkles and photo-aging. Research shows that an increased topical application of this antioxidant helps fight off free radical damage and keeps your skin cells healthy. This nutrient is easily absorbed by the skin and helps stimulate collagen production, which helps improve elasticity and texture.
Thus antioxidants in your skincare can perk up your skin to radiant healthy skin.