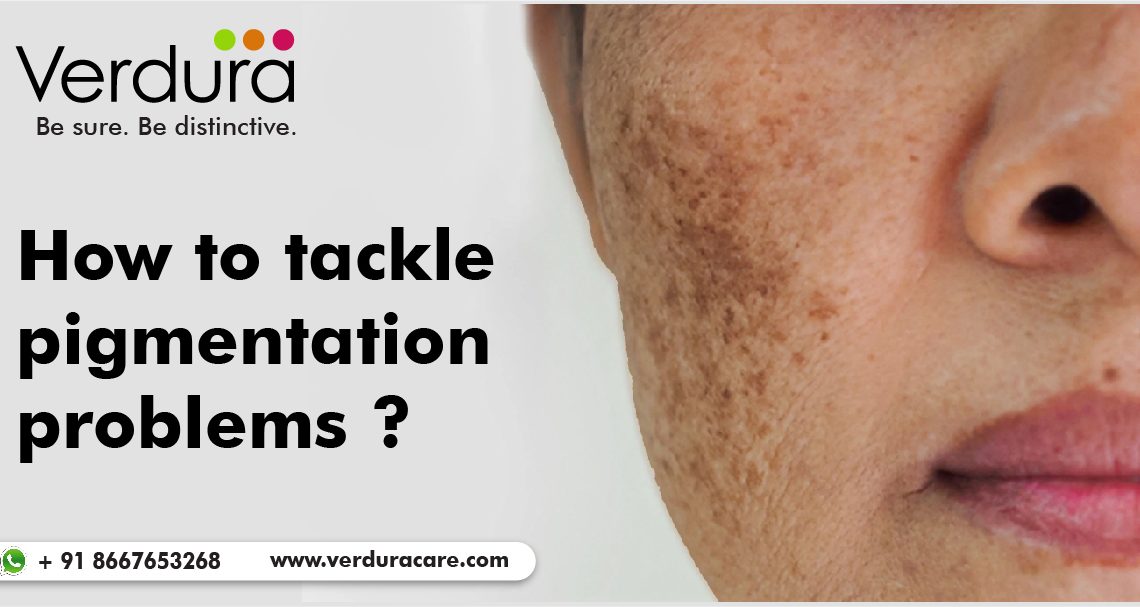 How to tackle pigmentation problems ?
As we get older the delicate skin of the face and neck are exposed to skin pigmentation issues. The appearance of dark spots and dis colouration could be caused due to sun exposure (UV rays), hormonal changes, pregnancy, skin aging, smooth and even skin tone is gradually been replaced by brown spots and uneven patches. Hyperpigmentation is an excess of color-producing skin cells which create an uneven or a patchy skin tone. It's also technically harmless and quite easily treatable.
The commonly encountered pigmentation problems are:
Melasma – Brown, flat patches over the cheeks, forehead and upper lips on both sides.
Freckles – Tiny, pin-head sized tan or brown flat spots over face caused by clustering of concentrated melanin
Post-inflammatory pigmentation – Develops on the face, neck or chest secondary to inflammatory dermatoses such as acne, atopic dermatitis, bug bite or psoriasis
Hyperpigmentation in pregnancy – Seen in axilla, areola and lower abdomen in midline
Cosmeceutical induced pigmentation – Diffuse pigmentation over face due to allergic reactions to cosmetic products
Potential benefits of Niacinamide in reducing pigmentation
Niacinamide, which is also called nicotinamide, is a form of vitamin B3 (niacin) found in supplements, skin-care products, and food. "Vitamin B3 is an antioxidant which is important for cell repair, topical niacinamide can increase the production of ceramides (lipids that help maintain the skin's protective barrier), which may contribute to its topical effects on wrinkles, fine lines, and the skin's moisture barrier.
Niacinamide can be Very Beneficial. Here's What Niacinamide Can Do For Your Skin 
Niacinamide not only acts as a skin lightening agent. It has various beneficial effects. Keep scrolling to find out the amazing effects of niacinamide.
Apart from reducing melanin synthesis, niacinamide also helps in boosting collagen production in the body. Increased collagen erases fine lines and wrinkles on the skin and brings back its youthful appearance. A hike in collagen in the skin also makes the skin firmer and more resilient. Niacinamide can also help in retaining moisture in the skin, thereby making them softer and plumper.
Niacinamide can help in maintaining the integrity of the skin's natural defense barrier.
Niacinamide can also help in controlling sebum production and prevents acne and breakouts on the skin. It can help in reducing enlarged pores and also protects the skin from photo-damage.
Niacinamide also has antimicrobial properties that keep the acne-causing bacteria at bay. Its antioxidant action helps in neutralizing oxidative stress.
What else? Its anti-inflammatory property can soothe itchy, reddened skin. On regular use, it can visibly reduce inflammatory acne and prevent future breakouts.
Verdura range of specialiy cosmetics has come up with a unique product "Verdura skin brite cream" that offers clear and radiant skin which is free from blemishes and imperfections. It brightens up the complexion. This gives spotless, young and radiant skin. It is enriched with the goodness of vitamins B3 (Niacin amide), vitamin E, Allantoin and Wheat germ oil. To heal and protect the skin with every application