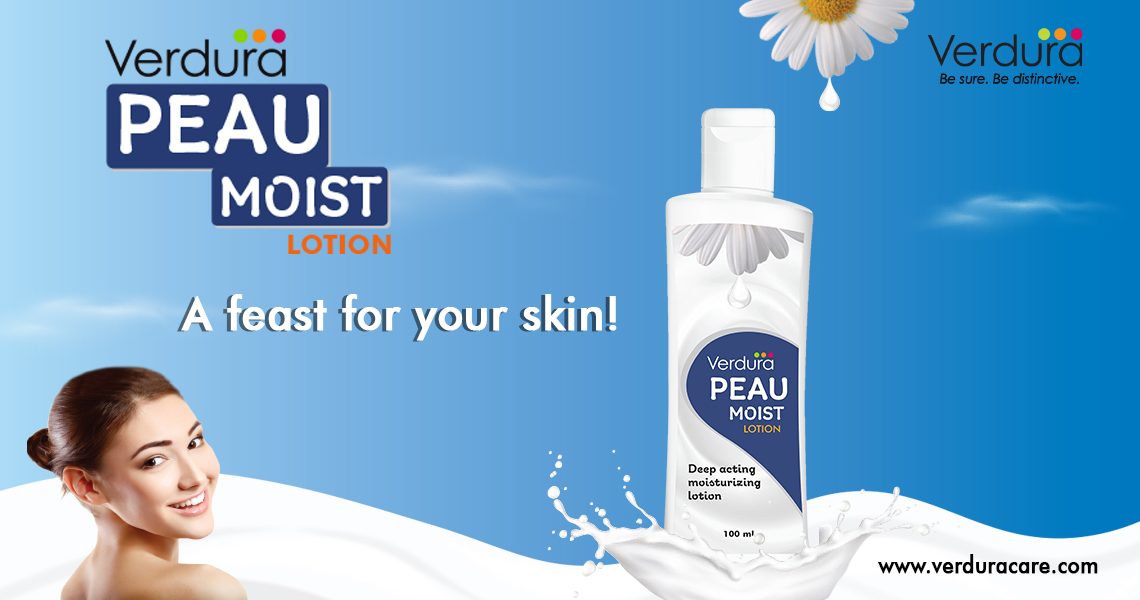 Feast your skin with advanced deep acting moisturizing lotion
Skin has three layers
´The epidermis, the outermost layer of skin, provides a waterproof barrier and creates our skin tone.
´The dermis, beneath the epidermis, contains tough connective tissue, hair follicles, and sweat glands.
´The deeper subcutaneous tissue (hypodermis) is made of fat and connective tissue.
Is your skin getting enough care for all the three layers???
Verdura peau moist lotion – A rich creamy lotion that with active complex acts on different layers of skin
Epidermal layer
Cellular level rejuvenation
Hydro-lipo balance of the skin
Dermal layer
Calms itching and inflammation due to dry skin
Build collagen and improves skin elasticity
Skin layer
Intense moisturization to the skin
Skin looks young, radiant and glowing
Advanced deep acting moisturizing lotion formulated with fine fats
Bisabolol
Avocado oil
Cocoa butter
Glycerine
Allantoin
to offer immense hydration to act deep down the layers of skin and lock in the moisture.
Offers deep penetration of actives that plumps up the skin making it look young, radiant and glowing.
Distinctive ingredients –Distinctive benefits
Bisabolol:
Bio-active skin calming and soothening agent derived from German Chamomile.
Provides hydration and stimulates healing process that reduces scarring and blemishes.
Gives protection against free radicals, helping to keep signs of aging like wrinkles and fine lines at bay.
Avocado oil:
Rich in fatty acids provides intense moisturization.
This is a vitamin E rich oil and also contains potassium, lecithin and many other nutrients that can nourish and moisturize the skin.
Cocoa butter:
Replenish the skin moisture and locks.
Acts as a barrier and prevent moisture loss from skin.
This also nourishes the skin and gives a natural glow.
Glycerin:
It is a hygroscopic material that helps in skin hydration, cutaneous elasticity and epidermal barrier repair.
It gives protection against irritating stimuli and accelerates wound-healing processes.
Allantoin:
It is an effective anti-irritant for the skin, calming and soothing sensitive areas.
It has been used to effectively help promote wound healing and also helps with cell regeneration
Salient features
–> Offers cellular level rejuvenation
–> Maintains hydro-lipo balance of the skin
–> Builds collagen and improves skin elasticity
–> Calms itching and inflammation due to dry skin
–> Provides intense moisturization to  ALL
types of skin
ages and
genders
Usage instructions
Apply gently all over the skin and massage for 2 minutes.
Make the right choices now!
Begin treating your skin with a daily skin care routine!!
You will see a drastic difference in the appearance and feel of your skin!!!